MK Socket 2G Switched 13A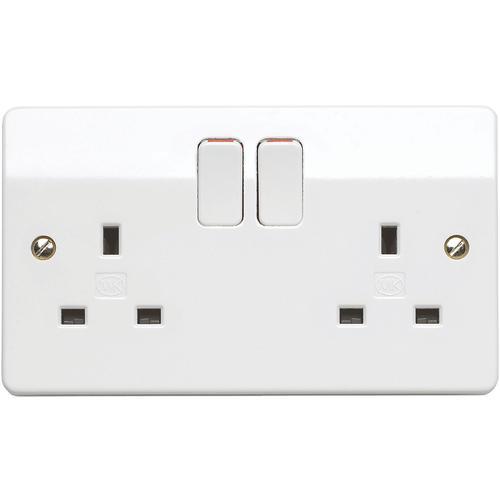 Name:

MK Socket 2G Switched 13A

Code:

MK K2747WHI

Manufacturer:

MK

Category:

Wiring Accessories

Colour:

WHITE

Offer Price:

£3.50 + VAT
Description:
MK K2747WHI
MK Logic Double Switched Socket
2 Gang 13 amp Double Pole
The MK K2747 (also known as MK 2747 MK Double Socket, MK Double Switched Socket and MK K2747 whi) is the industry standard in double switch sockets. Seen in domestic, commercial and industrial environments alike the MK Double Socket is both aesthetically superior to it's rivals, but also more advanced in its technology:
All MK Sockets have the following features:
1. The 3 pin operated safety shutter makes MK Logic Plus sockets the safest available.
2. Terminals are grouped in-line with terminal screws backed out ready for easy wiring. Clear marking on dark background makes the terminals easily identifiable.
3. Many MK Sockets are fitted with two earth terminals to provide high integrity earthing.
4. MK plates are chamfered at the top with radiused corners.
We stock a wide range of MK Logic wiring accessories, but if you cannot find the MK Socket, MK Switch, MK Fused Spur or any other MK Logic Wiring accessory, please do not hesitate to contact us as we will add the desired Mk item to our MK Logic Range.
MK Code: MK K2747 White
Order Code: MK K2747 White
Alt Codes: Mk 2747 / MK K2747 Wht / MK K2747w
Alt Descriptions: MK Double Socket / MK Double Switch Socket / MK Double Switched Socket / MK Double Socket Switched / MK 13a Double Socket / MK 13 amp Double Socket